Micro-Unit 8 x 2 Subcompact Analog Summing Mixer (with 2 pan switches)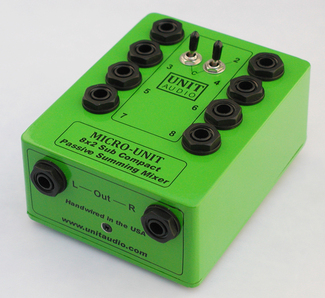 click picture to enlarge
Just $199.00 (USD), the Micro-Unit adds 2 pan switches to all the basic features of the Milli-Unit for additional mix flexibility. The switches allow the user to place channels 1 and 2 in monaural (center), or hard left (ch1) or hard right (ch2).
Easy setup makes this the perfect companion to your Digital Audio Workstation and It's small footprint takes up very little space.
Unit Audio Analog Summing Mixers are hand wired point-to-point in the USA using quality Xicon metal film resistors and Neutrik connectors . Now you have access to better sounding mixes at a fraction of the cost of other summing mixers

$199.00
plus shipping*
*A flat shipping rate of $9.50 will be added at checkout for the contiguous 48 United States.Orders outside of this area contact
terry@unitaudio.com
to arrange for shipping."
---