About Unit Audio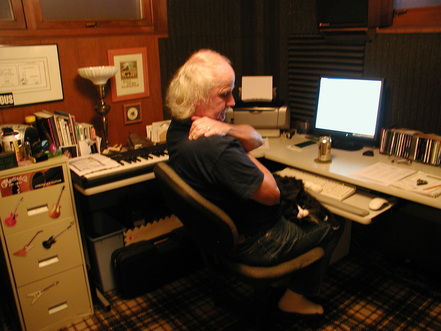 Terry and Peanut all beered and cat nipped out
My name is Terry Auger,
I serve as Designer, Engineer, and sole employee of Unit Audio. I have been connected with the music business for 52 years as a performer, engineer and studio musician. I personally hand wire all of my mixers in my Nashville
shop, testing them at several stages in the build process including a final stage of actually recording with each mixer.
A Word About The Analog Summing Mixers.
With modern DAW software, mixing within the computer has resulted in some great sounding recordings, but I have long been intrigued by the concept of passive analog summing. I was not prepared to pay $800.00 or more to test that theory, so I engineered and built my own. Then to test the theory, I set out to see if there was any difference in the mixed sound. Much to my amazement and pleasure, I noticed a HUGE difference in the stereo separation and placement of the instruments compared to my "In the Box mixes." The sound was much tighter and definitely more defined.
Q: Is analog summing going to make your recordings sound like a Nashville studio with a billion dollars worth of equipment?
A:
Probably not, but you will notice a major difference in your mixes using a Unit Audio summing mixer.
The Unit Audio summing mixers are pretty simple to set up. Once you have the mixer connected it can simply stay in your recording mix path. There really is no need to disconnect it. All you have to do is run cables out of your converter outputs to the Unit Audio summing mixer balanced line inputs. You then run cables out of the Unit Audio summing mixer balanced microphone level outputs into two channels of your microphone preamp. It is a good idea to have both preamp channels be alike. The microphone pre that you use dictates the final sound that you will get in your mix. The final stage of setting up is to come out of your microphone pre into two input channels of your converter and mix to stereo in your DAW. Because of the passive circuit in the Unit Audio mixers, there will be about 30db of gain loss. This is why you need the mic pre at this stage. The really pricey summing mixers have make up gain built in which in turn creates a final mix of whatever coloring that particular circuit adds. By using your own preamps you can adjust your final mix sound by the character of each individual pre amp. It is pretty cool. I will be happy to answer any questions you might have about set up, or anything. Send an email to
terry@unitaudio.com
, or use the email submission form on the
contact page.
Terry
---
---