About Unit Audio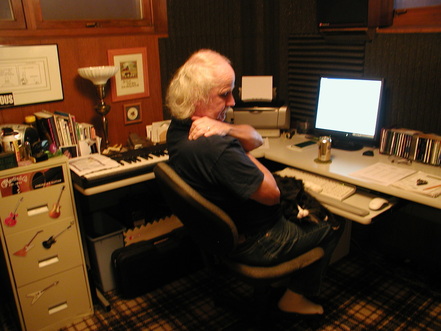 Terry and Peanut all beered and cat nipped out
My name is Terry Auger. I serve as Chief Engineer and Mad Scientist at Unit Audio.
I began playing music professionally at age 16 and did so as my only source of income for 21 years. My hobby during that period was woodworking. In 1986 I gave up the road as a musician to do woodworking full time. I continued music as a hobby and created (like many of you I am sure) a computer based studio in my home. After purchasing high end microphone pre amps, microphones and studio monitors and still not quite getting the sound I wanted, I turned to the room and it's acoustics. I read many articles on the importance of sound treatment in the studio environment. I then began to treat my control room. It worked fine but I still needed something to keep sounds from all running together while I was tracking. Baffles and gobos I had seen were either way to bulky and heavy to move around or did not work well for height situations such as low enough for guitar amps and high enough for vocals. Also none of the available baffles could be angled to tame any ceiling reflections or to help drum set ups.
Hence The Baffle-Unit, a portable lightweight adjustable sound baffle.
I could not find anything like this anywhere so I decided to design and build baffles that could and would fill my needs. The design of the baffle is quite simple. It consists of a sturdy hard wood frame and urethane foam. The fact that it is adjustable and light weight makes it very appealing for recording studios and control rooms of any size. Note: The Baffle-Unit baffles are meant for sound absorption. They will not block sound from going through them. They work great for calming down full-frequency waves and echoes in normal size rooms.
A Word About The Analog Summing Mixers.
With modern DAW software, mixing within the computer has resulted in some great sounding recordings, but I have long been intrigued by the concept of analog summing. I was not prepared to pay $800.00 or more to test that theory, so I engineered and built my own. Then to test the theory, I set out to see if there was any difference in the mixed sound. Much to my amazement and pleasure, I did notice a subtle but very pleasing difference in the stereo separation and placement of the instruments compared to my In the Box mixes."
Q: Is analog summing going to make your recordings sound like a Nashville studio with a billion dollars worth of equipment?
A:
Probably not, but you will notice a difference in your mixes using a Unit Audio summing mixer.
The Unit Audio summing mixers are pretty simple to set up. Once you have the mixer connected it can simply stay in your recording mix path. There really is no need to disconnect it. All you have to do is run cables out of your converter outputs to the Unit Audio summing mixer balanced line inputs. You then run cables out of the Unit Audio summing mixer balanced microphone level outputs into two channels of your microphone preamp. It is a good idea to have both preamp channels be alike. The microphone pre that you use dictates the final sound that you will get in your mix. The final stage of setting up is to come out of your microphone pre into two input channels of your converter and mix to stereo in your DAW. Because of the passive circuit in the Unit Audio mixers, there will be about 30db of gain loss. This is why you need the mic pre at this stage. The really pricey summing mixers have make up gain built in which in turn creates a final mix of whatever coloring that particular circuit adds. By using your own preamps you can adjust your final mix sound by the character of each individual pre amp. It is pretty cool. I will be happy to answer any questions you might have about set up, or anything. Send an email to
terry@unitaudio.com
, or use the email submission form on the
contact page.
Terry
---
---